Criminal Defense
San Francisco Attorney Helping Bay Area Residents Facing Prosecution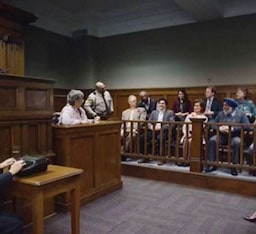 If you have been arrested or charged with a crime, the assistance of an experienced criminal attorney may be essential to defend against the prosecution. San Francisco criminal defense lawyer David Uthman understands that each case should be investigated thoroughly to identify the strongest defense strategy available under the circumstances. With a long legal career and law enforcement background behind him, he has the knowledge and ability to represent defendants facing DUI, domestic violence, assault, theft, and other felony and misdemeanor charges.
Common Defenses in California Felony and Misdemeanor Cases
In all criminal cases, the prosecution must submit evidence to establish each element of the offense against you beyond a reasonable doubt. This is a very high burden to meet, and there may be multiple ways to prevent the prosecution from meeting it in any given case. The defense can both attempt to weaken the prosecution's case and offer its own evidence to rebut the allegations. A thorough examination of the facts of the case may reveal that some evidence or even a confession was obtained as a result of a violation of your constitutional rights. In situations in which the police did not have a warrant, voluntary consent, or other authority to conduct a search, for example, a criminal defense attorney in San Francisco may be able to argue that evidence found during the search cannot be used against you. If crucial evidence is suppressed because of police or prosecutorial misconduct, the state may not be able to prove its case against you.
The defense may also present witness testimony and evidence acquired through its own investigation of the case. Establishing that the defendant lacked the intent required to commit the crime alleged may be effective in getting a charge dismissed. One of the crimes that contains an intent element is domestic violence, which generally requires the willful infliction of an injury. If you accidentally hurt your spouse by slamming a door when you did not know that his or her hand was in the door jamb, for instance, you did not willfully inflict the injury. In a theft case, meanwhile, the prosecution must establish beyond a reasonable doubt that the defendant intended to steal the items. Self-defense is another defense that may apply in some circumstances, particularly assault, battery, and domestic violence cases.
DUI Defense Strategies
Defending against a driving under the influence (DUI) charge involves specific considerations. As with other criminal cases, the circumstances of the arrest must be thoroughly examined to determine whether there was probable cause for the traffic stop, whether Miranda warnings were provided, and whether any police misconduct occurred. In addition, a San Francisco criminal defense attorney may question the accuracy surrounding any chemical test that indicated a blood alcohol content (BAC) over the legal limit. This analysis may focus on whether the required 15-minute observation period occurred before administering a breath test, whether a breath or blood test was administered correctly, whether the equipment was properly maintained, and other factors that may point to unreliable BAC results. The defense may also challenge the reliability of any field sobriety tests that were conducted, as well as the arresting officer's description of the defendant's driving and physical signs of intoxication. The assistance of an experienced DUI defense lawyer can be vital to identifying the issues in a particular case.
No matter the charge that you are facing, you should take the time to retain an attorney whom you trust to make sure that your side of the story gets told carefully and comprehensively. Uthman Law Office provides trustworthy defense representation in a range of criminal matters to people throughout the Bay Area. Attorney David Uthman has advocated on behalf of defendants for over 20 years in various felony and misdemeanor cases, as well as in DMV administrative proceedings and during the expungement process. To arrange a free consultation, call our office at 415.556.9200 or submit our contact form online.